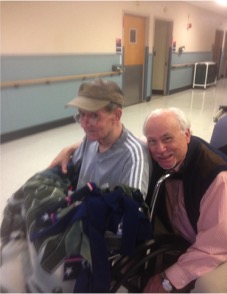 This is Sgt. Bill Nix. Bill is my Brother. He just happens to be married to my sister. Bill is a decorated Vietnam hero. Bill earned the Combat Infantry Mans badge, 3 purple hearts and the Bronze Star! After Vietnam and College, Bill served his country as a federal probation officer for 30 years. Bill lives in the Georgia War Veterans Home in Milledgeville, Georgia. He is under attack from Alzheimers, Parkinson's, Type 1 diabetes, Chrone's disease and other complications from agent orange poisoning.
Many people talk about supporting our veterans but you Folks do! You send me frequently to visit and minister to Bill and the other Hero's at the Home. Bill is seated in his new Super Duper wheelchair which you bought for him with your generous offerings to Throne of Grace. He is wearing the prayer blanket given to him by the ministry and custom made by the wonderful woman who makes all of our prayer blankets. It is emblazoned with the Army Seal and pictures of Vietnam era helicopters.
On behalf of my sister Gay and her family Thank You all so very much!!!