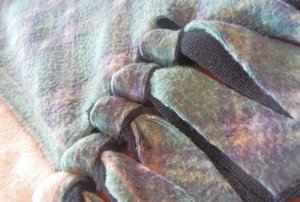 Our made-to-order Prayer Blankets represent our collective faith in the healing power of the Gospel of Jesus. As we tie each of the approximately 50 knots around the blanket's edge, we pray that the person being honored by the blanket is healed. Because each blanket takes considerable time to complete, orders are limited to one (1) blanket per order, please.
We do not charge for our prayer blankets. They do however cost money. We must buy material, make the blankets and ship them. Any contribution with your request, will be greatly appreciated and is tax deductible as we are a 501c3 tax exempt ministry. You may make your offering payable to Throne of Grace and mail it to TOG P.O.BOX 669153 Marietta, Georgia.
To learn how to receive the healing that Jesus gave you on the cross, purchase our book: "What if Jesus Told The Truth?" here on our site or at Amazon.com
For our out of country friends. Due to the cost of international shipping, we are unable to send blankets outside of the United States. Please send us your specific prayer request and our family will pray in agreement with you that Jesus has granted your request.